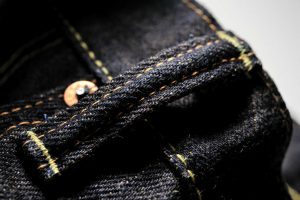 穿き込まれたジーンズのパーツ各所に見られる様々な特徴的なエイジングの中でも、中心部分に生地が巻き込まれ高く盛り上がったベルトループに浮き出る摩擦によって色落ちをした魅力あふれる痕跡は、ヘビーワーカーたちの求める耐久性に応えた縫製技術が元になっています。
細長く裁断された生地を、中心部分に巻き込んで、その脇をステッチで抑える。
抑える2本のステッチは、中高部分と両脇のフラット部分の溝のように出来た境目を走り、強度が高く摩擦に対して糸切れがしにくくなる工夫がされています。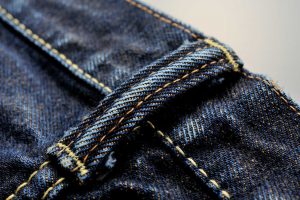 結果、長年の着用の中で主に縦に盛り上がった中心部分から色落ちを始め、特徴的なストライプ模様を生み出されるのです。
このディテールのためにストライクゴールドでは、専用に製作したラッパと呼ばれる治具をミシンに取り付けてベルトループを作り上げています。
-Raised belt loop that creates beautiful aging by seeking strength-
Various characteristic aging appears in each part of the jeans that are worn.
Above all, the attractive fading caused by friction, in which the fabric is rolled up in the center and emerges in the raised belt loop, is due to the sewing technology that meets the durability required by heavy workers.
We wrap the elongated cut fabric around the center and hold down the sides with stitches.
The two stitches that hold down pass through the groove in the raised part in the center and the flat part on both sides, and have high strength and are less likely to break due to friction.
As a result, the color begins to fade from the central part, which is mainly raised after many years of wearing, and a characteristic striped pattern is created.
For this detail, The Strike Gold attaches a specially made jig to the sewing machine to create a belt loop.