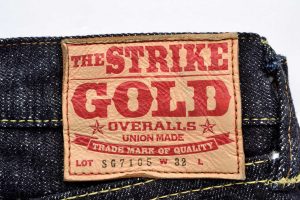 ジーンズの革ラベルは、刻まれたブランドの存在と印字されたロットNo.が確認できるバックスタイルを飾る大切なディテールの1つです。
ストライクゴールドがオリジナルで製作した革ラベルは、しなやかで柔軟かつ、強靱であるという特徴と、湿気に対する強さから、日本では奈良時代頃から武具などで用いられていた鹿革を採用しています。
製作をするにあたり、鞣し、革の厚みとストライクゴールドのジーンズに、よりフィットするように吟味され、非常に重要なパーツして製作されています。
また、長年の着用による経年変化では、2通りのゴールを見据えています。
1つは、鹿革の銀面が剥がれ易いという特徴により、非常に個性的なアジを生み出します。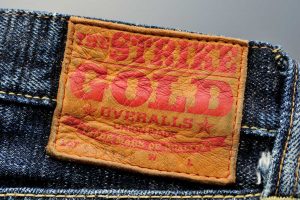 そして、もう1つは、銀面が保持された時の磨かれたように鈍く輝く鹿革の美しいエイジングです。
着用者にとってこの革ラベルは、メンテナンスを含めたジーンズとの長い関わりの中で、強く親しみを感じることの出来るものとなるはずです。
-Original deer leather label that quietly claims the brand name-
The leather label on jeans is one of the important details to decorate your back style, because you can see the presence of the engraved brand and the printed lot number.
The leather label originally produced by The Strike Gold use deer leather which has the characteristics of being supple and tough, and has resistance to moisture. In Japan, deer leather has been used in arms and armor since the Nara period.
It is tanned and scrutinized for leather thickness to better fit the The Strike Gold jeans and is made as a very important part.
In addition, we are aiming at two goals in aging due to long-term wear.
One is to create a very unique aging due to the characteristic that the grain of deer leather is easily peeled off.
The other is the beautiful aging of deer leather which shines dull as if polished when the grain is retained.
For the wearer, this leather label will be a strong familiarity in the long-term relationship with jeans, including maintenance.